Actually I feel a little nervous with presenting the rest of the characters to be honest. I mean, I do not want to raise any expectations (If I ever hear the words: when will the book be published? I go crying in a corner). This is the only teaser I will do from now. Since you asked so nicely 🙂

Love, the main character of the Starkeeper's wish. A cute redhead with freckles like a starlit sky. A lone wolf with a rich inner life.
Melinde, the dark elf. May seem arrogant at first sight but he has a heart of gold and would never betray his soulmate. Or?
Tay, the half-brother with xenophobic tendencies. He should sit on the throne instead of Love. He has the beauty and the people's trust.
Flax, the fiddler. A violin player who was born half blind and have a mysterious fondness for the sea.

Zandor, the drow elf. The shadow. He would rather play with daggers than magic and stealing rishes without remorse.
Fearyn, the mage. He is a mystery, and the most powerful of the group. Will he ever dare talk about his dark past?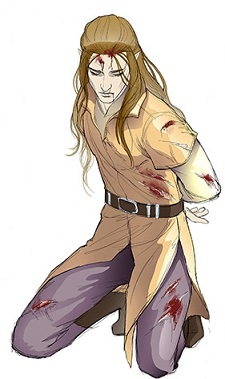 Sanel, the stray elf. The key. No one knows who he is. He is known as a beggar and very shy of people. Ultimately, he will find his place among the guardians.
The sketches are made by © Mathia Arkoniel
Characters by © Anna Pettersson